Our Chiropractic Techniques
Chiropractic Care is a hands-on approach to correct various aches and pains which are a result of one or more mis-aligned vertebrae in the spine. These mis-aligned vertebrae, often called subluxations by chiropractors, can pinch the nerves as they pass between the vertebrae causing aches, pains, and sometimes numbness.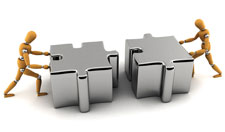 Gentle hands-on approach
Chiropractors correct misaligned vertebrae with gentle hands-on adjustments to correct the alignment problem and remove pressure from the pinched nerves.
Because chiropractic care eliminates the cause of the pain rather than just treating the symptoms, it has become a very successful approach to eliminating back pain for thousands and thousands of Canadians every year.
If you are suffering from back pain you are not alone.
Government studies show that low back pain alone affects 80% of the population at least once in their lifetime. The Doctors at The Back Doctors Wellness Clinic draw from a variety of treatment methods to provide the most appropriate and personalized care possible. We do not take the "one size fits all approach" which we feel sets us apart from other Victoria BC chiropractors.
Drs Newberry and Simpson use treatment concepts from several techniques to produce the most effective and most comfortable results for your individual body type and spinal alignment requirements.
Some of the more commonly known chiropractic techniques our doctors utilize treatment approaches from are:
Diversified
Thompson
Gonstead
CBP
SOT
Pettibon
Activator
Accustim
Spinal Decompression
Please note that although our hands will tell us where your spinal alignment problems (subluxations) are, they will not tell us what it feels like to be living inside your body! This is why we listen carefully to the feedback you provide us and together we select treatment techniques that you are most comfortable with, and work best for you.
How can we help you with today's safe and natural chiropractic care? Give us a call so we can help you take your first step towards better health.