Welcome to The Back Doctors Wellness Clinic!
First Visit
At The Back Doctors Wellness Clinic, we feel it is extremely important to learn about you, your lifestyle, work, and the events that have led you to us for Chiropractic care. After contacting us for an appointment, when you arrive at our office you'll notice a vibrant caring atmosphere, as you are greeted by Debra, our Chiropractic Health assistant. You will then meet Dr. Newberry or Dr. Simpson after filling out some simple paperwork to help us better understand your condition.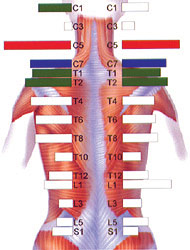 Next, your Chiropractor will take a significant amount of time with you to discuss your symptoms and perform a thorough, non invasive, hands-on, Neuromusculoskeletal examination in order to arrive at a diagnosis. Our success in understanding and reaching your treatment goals is heavily dependent on the depth of this first examination, so please plan on being at our office for 30-45 minutes on this visit.
We have found that patients that understand how their spine works, and how to take care of it, get the best results from their chiropractic care. Expect to learn a lot about your spine, beginning on your first visit with us.
Once Dr. Newberry or Dr. Simpson has completed your chiropractic spinal examination, you will be given an explanation of your condition. At this point, if yours is a chiropractic problem, and if you choose, treatment can begin. If on the other hand, there is a problem that is not likely to respond to chiropractic care, you will be referred to another health care provider, after being given a detailed understanding of what is going on.
---
Second Visit
Report of Findings
After reviewing all information and examination findings from your first visit, Dr. Newberry or Dr. Simpson will explain in detail, the exact nature of your spinal alignment problem, also known as your "Report of Findings." We typically provide a lot of detail about your individual condition and your diagnosis on this visit, so plan to be with us for 20-30 minutes. We encourage you to bring along another set of ears such as a spouse if you like, so they may better understand and support you.
At this time we recommend a treatment plan which is followed by a Progress Evaluation where we repeat the examination and testing as on the first visit. This way you always know why you are coming in, how long it's going to take, and how well you are progressing.
At The Back Doctors Wellness Clinic, you will not be told to keep coming back over and over while not knowing why and if it will ever end. Our patient centered approach sets us apart, as your progress is monitored very closely, and Drs Newberry and Simpson are focused singularly on helping you meet your health objectives.
---
A Typical Office Visit
Once your chiropractor has diagnosed your condition and taken the time to explain it, and ensured your questions have been answered, plan about 15 minutes for a regular office visit. When the adjustments are performed by skilled hands, treatments usually feel great and do not take a lot of time out of your busy schedule. Of course, individual treatment times will vary depending upon the severity of your condition.
Give our Victoria chiropractic office a call to schedule an appointment today!